Last updated on 24 April 2021
Clubhouse: what it is & how to promote your brand on the audio chat app
What is and how to use the popular audio drop-in app. How do chatrooms work? How to grow your brand on Clubhouse? All you wanted to know in our FAQ
Clubhouse is the social network everyone's talking about in February 2021. The new social media app gathers people in audio chatrooms, each one with a different topic. Available only on iOS, the app was downloaded by more than four million people in the last month alone.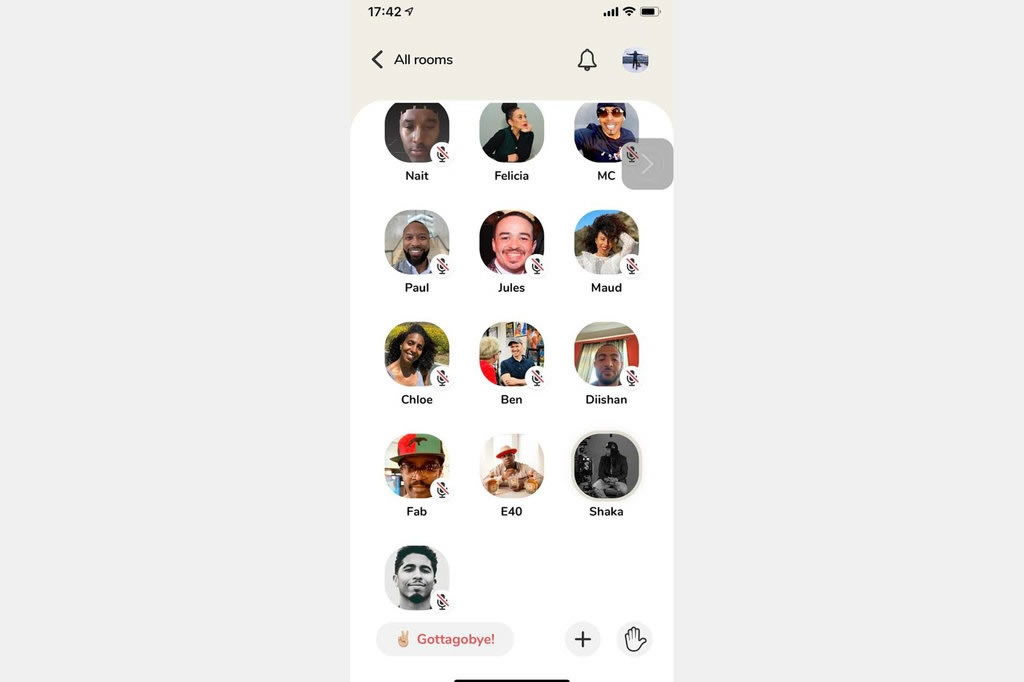 The success of Clubhouse is due not just to the number of celebrities getting in. Its popularity is also an indicator that lives audio conversations might be the new trend in social media, shifting digital content beyond the text, photos, videos, and indeed podcasts.
On this page, we collected all the answers to the frequently posed questions about Clubhouse, including where to start to get an invite.
Unlike the chats on Clubhouse which are gone forever once the chatroom closes, this FAQ will remain available and will be updated with new information material while the social networking app develops.
What is Clubhouse?
Clubhouse is a space for casual, drop-in audio conversations —with friends and other interesting people around the world.
Clubhouse's network is organized in thousands of chatrooms, where users move between conversations as speakers or listeners.
Clubhouse is a new type of network based on voice. [..] It's a place to meet with friends and with new people around the world—to tell stories, ask questions, debate, learn, and have impromptu conversations on thousands of different topics.
Why is Clubhouse so popular?
Clubhouse grew to 6 millions users in its first year, despite being an invite-only app.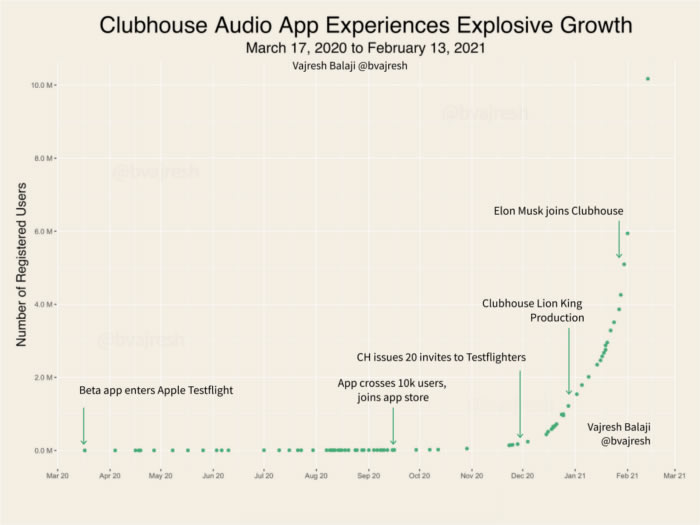 With the words of its founders:
Voice can bring people together. No matter where you live in the world or what networks you have access to, in Clubhouse you can be in the room - often with people whose lived experience has been very different from your own.
The innovation that Clubhouse brings over podcasts is that it makes it easy not just to listen, but also to participate to the conversation - switching from listener to creator in a matter of seconds.
The conversations on Clubhouse are live, taking advantage of the fact that audio can be consumed while busy doing something else. Like podcasts, you can listen while you are out for a walk, make dinner, or work out.
This is an interesting shift for social media in 2021: the live nature of Clubhouse makes the platform perfect to discuss events as they are happening.
This also makes Clubhouse better suited than podcasts to discuss events as they are happening, or immediately afterwards. For example, both Clubhouse and Locker Room, its sports-focused competitor, have become go-to destinations for sports reaction conversations, both during and after games.
How Clubhouse works? What is it like?
When you open the app you can see "rooms" full of people talking—all open so you can hop in and out, exploring different conversations. You enter each room as an audience member, but if you want to talk you just raise your hand, and the speakers can choose to invite you up. Or you can create a room of your own.
Those who start the rooms become its moderators. They can nominate others to oversee the session. By default, everyone else in the room is a passive listener. In order to speak, participants send a request to the moderators.
Are Clubhouse rooms live?
Every conversation on Cluhouse happens live. This means that Clubhouse has to moderate its platform in real time, unlike on other social platforms like Reddit or Facebook.
As dr Bernie Hogan, a senior research fellow at Oxford University's Internet Institute, points out:
The app reinforces the "fast brain", an emotional state where people react immediately and don't use logic as much. Just like YouTube, Clubhouse amplifies the delivery of a message more than its content, reinforcing the words of those with emotive and persuasive delivery.
He adds:
Using audio in this way does not seem like it's going to be well set up for [negotiating] conflict.
as reported on Vice.
How do Clubhouse rooms work?
Meeting new people on Clubhouse is easy. You can join a chatroom based on its topic, or because you know people in there. The conversations are public and you can just decide to listen. You can raise your hand to speak, or be invited to speak by the moderators.
Each room has a maximum capacity of 5,000 people. More than that and the debate becomes no longer manageable.
Every weekend Clubhouse organizes a "town all", where the founders of the app share their progresses and invite people to join the discussion.
How Clubhouse invites work?
There are two ways to get an invite for Clubhouse. As explained by its founders:
Hey! We're working hard to add people to Clubhouse as fast as we can, but right now you need an invite to sign up. Anyone can get one by joining the waitlist, or by asking an existing user for one.
We really appreciate your patience and can't wait to welcome you. Thank you!
Where can I get an invite?
The quickest way to get an invite is to know someone who is already on the platform. Or you can try to search for people offering invites. Right now it is very easy to stumble upon someone searching or offering an invite on Twitter, Reddit and Facebook.
Some creativity is required:
An easy way, for example, is to find the tweet Elon Musk made about him participating in an open conversation inside a Clubhouse room.
This caused a boom of retweets from a lot of people offering invites.
Who to follow on Clubhouse? What famous people are there?
The New York Timeshas an answer for the initial growth of Clubhouse:
Clubhouse is a social media app where venture capitalists have gathered to mingle with one another while they are quarantined in their homes.
Clubhouse gathered a number of celebrities and famous entrepreneurs as early joiners of the platform.
Are Clubhouse rooms recorded? Can I listen to the conversation later?
On Clubhouse the conversation is live and there are no recordings.
When a session ends and everyone leaves the room, the chatroom will disappear.
Unlike on Twitter, Facebook and Reddit, where users post content in the form of text, images or videos, the conversation is gone once the room closes.
Recording the chat rooms is against the guidelines and can get you banned from the app.
Are Clubhouse moderators paid?
As we write, february 2021, there are no moderators employed by Clubhouse.
Can people hear me on Clubhouse?
When you launch the Clubhouse app and join a chatroom, your audio recorder is muted by default. In order to speak, you need to raise your hand and wait for the moderator to communicate when it is your turn. At that point, everyone can listen to what you have to say.
How much does Clubhouse app cost?
Clubhouse app is free, but you need an invite in order to join the platform.
The app requires iOS 13.0 or later. Compatible with iPhone, iPad, and iPod touch.
How can I use it to promote my brand or my business on Clubhouse?
And while influencers from other social networks are trying to get in, in December, Clubhouse unveiled an invitation-only "creator pilot program" to help so-called power users make money on the app.
"People are already building brands," said Sheel Mohnot, 38, founder of Better Tomorrow Ventures, who has 1.2 million followers on the app. "There's all these Clubhouse shows. Some of those shows I've seen are sponsored." (Mr. Davison and Mr. Seth have said the company plans to make money through ticketed events, subscriptions and tipping, but will not sell ads.)
According to Clubhouse founders,
Creators are the core of the platform. They will be supported in the future through a payment system. This will be a way for them to be recognized for their effort. It will be made possible through features like tipping, tickets, or subscriptions.
What is the difference between Clubhouse and podcasts?
Unlike podcasts, Clubhouse hosts live conversations. Moreover, everyone in a audio chatroom can listen but can also intervene. This makes the whole experience much more interactive.
Clubhouse is working because it's halfway between a podcast and a party, and people love both of those things.
What is the difference between Clubhouse and Twitter?
Clubhouse does with podcasts what Twitter did with blogs: it is a medium better suited to cover live conversations and events. It also encourages the user engagement by turning every listener into a potential speaker.
The way in which you make friends and discover new people is also similar to how it happens on Twitter.
Twitter is also interested in the developments around Clubhouse, and it is launching a beta version of its voice-based social networking Spaces.
Are there privacy concerns over Clubhouse?
In february 2021, German and Italian regulators questioned Clubhouse's data practices against the European data protection laws. On Clubhouse, users are asked to provide access to their address book in order to invite friends on the platform, and this does not play well with the GDPR.
Further concerns were raised by a research of the Stanford Internet Observatory. Clubhouse is powered by Agora, a Shanghai-based provider. The Observatory explains how sensitive data is transmitted through the app in plaintext. This means that Agora would have easy access to both user IDs and voice conversations.
Besides, in China the app is already blocked - in line with the country's tight internet controls.