Last updated on 24 April 2021
Bing Webmaster Tools: keyword research and backlinks analysis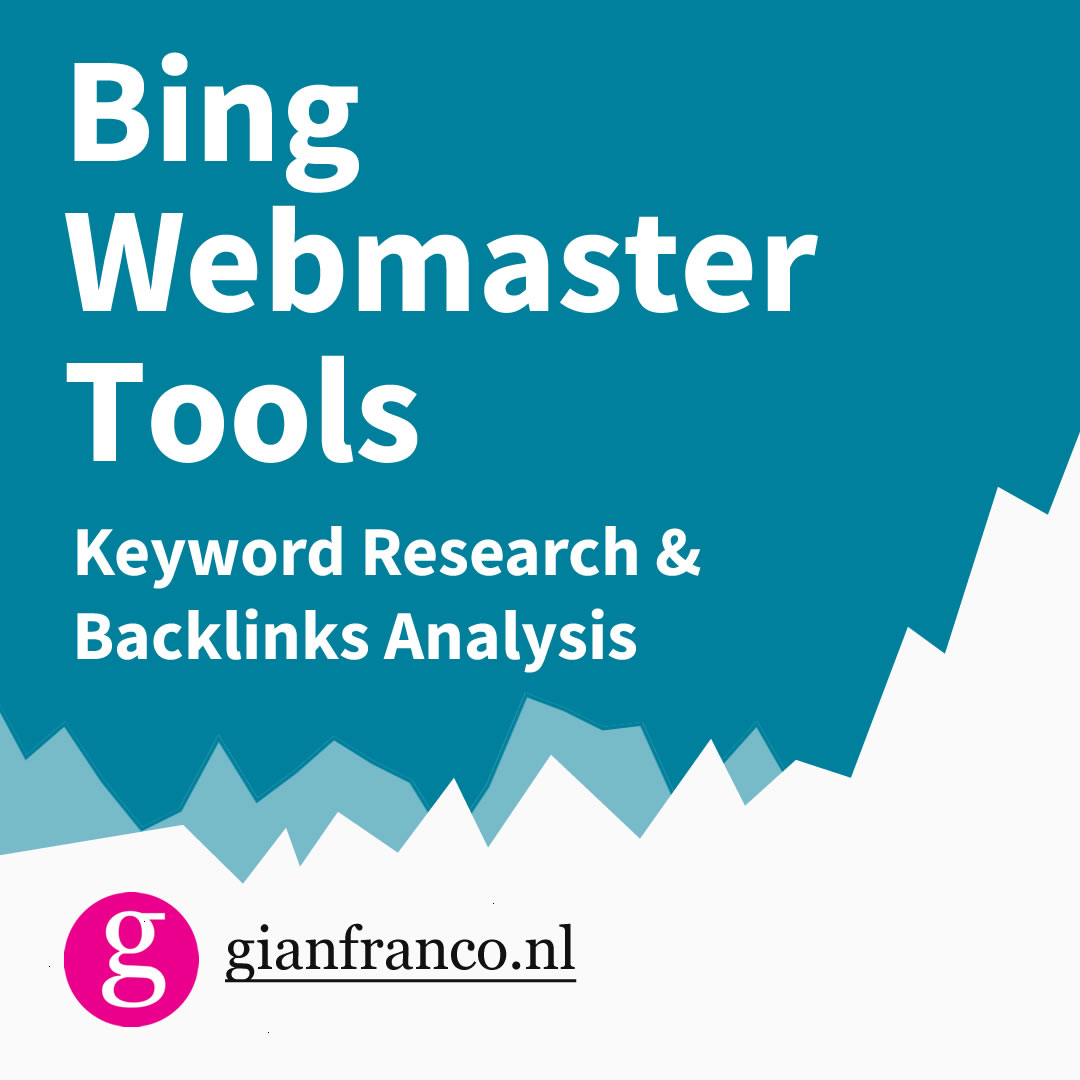 Boost your organic traffic with the new Bing Webmaster Tools: featuring advanced SEO reports, keyword research, and backlinks analysis of your competitors.
In February 2020 Microsoft announced the first iteration of the new, revamped Bing Webmaster Tools.
With this update, Bing Webmaster Tools introduces a new user interface that makes it easier to use, and that resembles the way Google Search Console is organized.
If you are familiar with Google Search Console, you will find yourself at home with Bing Webmaster Tools.
The new release is particularly interesting because it includes features that you usually find on professional, and expensive, SEO optimization software such as SEMRush or Ahrefs. For instance, you can check the backlinks of your competitors; and query the search volume of a given keyword for a selected country, language, and device.
Bing Webmaster Tools also integrates with a new web analytics tool: Microsoft Clarity. Unlike Google Analytics, Clarity provides you with heatmaps and session recordings on your website; as such, it can be very helpful to improve user experience and CRO - conversion rate optimization.
In this article, we analyze the features offered by Bing Webmaster Tools, including its integration with Microsoft Clarity, and we compare them with the tools that Google includes in its Search Console.
What is Bing Webmaster Tools? 
First launched in 2009 as Bing Webmaster Center, Bing Webmaster Tools is Microsoft's counterpart to the popular Google Search Console. It is a collection of utilities that you can access for free, and that allows you to add your website to the Bing search engine. You can then monitor the performance of your pages on Bing, with data about clicks and impressions, and optimize your site to achieve a better ranking.
Recently Bing Webmaster Tools introduced a set of innovative SEO tools for keyword research, SEO scan reports, and backlinks analysis.
Why use Bing Webmaster Tools?
You might want to consider Bing Webmaster Tools not just to index your pages on Bing Search, and to improve their rankings. The service helps you to understand what people are searching for and what leads them to your site.
It can be a great tool to get more traffic to your website, depending on your target audience.
According to StatCounter, Bing accounts for a 3% of the search engine queries in the Netherlands (Google scores a 94.6%).
And what demographic uses Bing the most? In the US, where Bing has a larger user base, its average user is 35+, not particularly techy using Internet Explorer at work.
How to use Bing Webmaster Tools?
To use Bing Webmaster Tools, you first need to create an account. You can sign up with an existing Microsoft, Google, or Facebook account.
The next step is to add and verify your websites. The verification step is needed to prove that you are the owner of the web property. Read the verification methods available.
Another way to verify your websites is to connect Bing Webmaster Tools with your Google Search Console. This will share effectively data between the two services.
Sitemaps
Once you have access to the Bing Webmaster Tools dashboard, you might want to make sure that Bing indexes your website. Creating and uploading a Sitemap is the way to ask Bing to index the URLs on your website.
A Sitemap is an XML, RSS, or text file, usually located at the root of your domain, and consists of a list of all the pages of your website.
For instance, my sitemap: https://gianfranco.nl/sitemap.xml . This file gets updated every time new content is published and submitted to Bing Webmaster Tools and Google Search Console.
Search Performance
Just like on Google Search Console, you can view impressions, clicks, and average position of your pages on Bing Search for a custom time range.
Bing Webmaster Tools shows the keywords used by people on the search engine and the pages of your website that Bing lists within the results.
This section on Google Search Console allows for more granular control, where you can filter down for each search also for a given country and device.

URL Inspection
URL Inspection allows you to check the status of your live pages, one by one. Does the inspector find any issue? This section allows you to check that a page is error-free, and therefore ready to be indexed.
Once the Live URL is scanned without reporting errors, you can ask Bing to index it.
Did the page already exist, and its content recently refreshed? Then you can let Bing know about the update and make a further indexing request.
URL Submission
Asking the search engine to priority-index pages is the favorite feature of the anxious SEO specialist. Jokes aside: of course you want your pages to be indexed as soon as they are published online. Bing Webmaster Tools allows you to submit up to 100/day:
Pages can be submitted in bulk, as a list. The process can also be automated thanks to the Submission APIs
In comparison, Google Search Console allows the manual submission of 1 URL at-a-time. For some time in the second half of 2020, the Page Indexing function was disabled. Bing makes it easier to submit new or updated pages on its search engine.
WordPress Plugin for URL Submission to Bing Webmaster Tools
The Bing team developed a URL Submission Plugin for WordPress which automates the indexing of URLs from a WordPress site to Bing Search. New and updated pages are submitted to the search engine as soon as they are published, no manual action is required. The source code of the URL Submission plugin is also available on GitHub.
Site Explorer
Site Explorer lets you browse your website as Bing sees it, structured in nested folders and pages.
For each page you can view:
Impressions
Clicks
When the page was last crawled
The document size
The number and quality of backlinks
The errors or warnings found by Bing.
What are featured search snippets on Bing?
Up until recently, there were no rich snippets on Bing Search results. With this, I am referring to the visually rich widgets that you see more and more when you perform a search on Google. Only in late 2020, Bing started introducing rich-featured results, to deliver a new search experience that is intuitive and engaging.
At Microsoft Bing we're looking for ways to give you back time
Thank you, Bing.
As an example, you can see several featured snippets when you search for giraffes on Bing.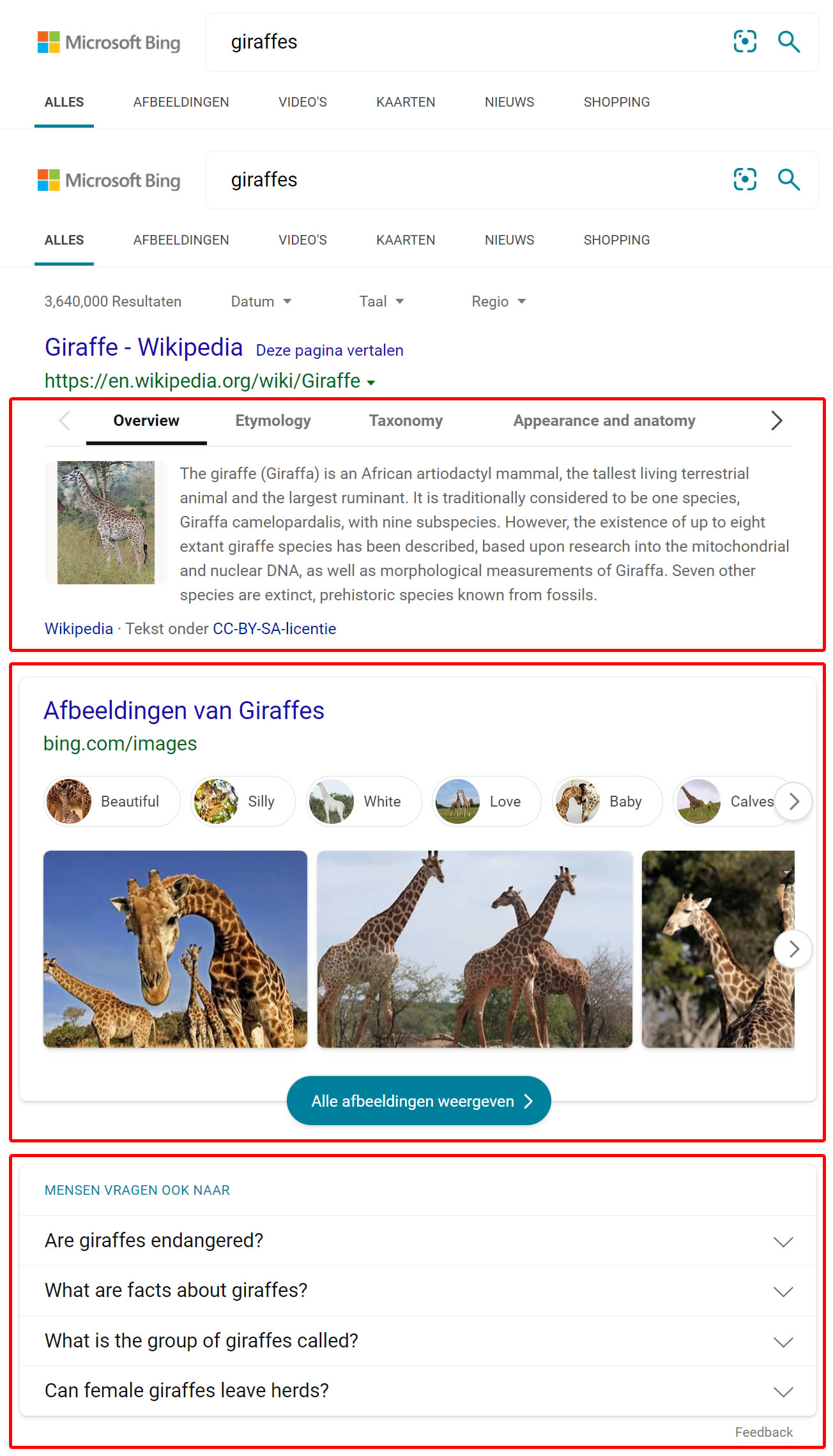 The reason why I'm touching on this topic is that Google Search Console provides a whole section where you can control the structure data on your web pages. This allows you to directly influence the rich snippets to result on Google Search.
For now, this section is missing on Bing Webmaster Tools. Unlike Google, Bing does not let you monitor the structured data associated with your web pages directly on Bing Webmaster Tools, yet. Though just like Google, Bing Webmaster Tools makes use of what is called structured data to understand the content and the structure of a web page. By providing the right structured data, your website gets more chances to get featured in search results.
As a content publisher, you can try to get visually appealing, information-rich search results on Bing by structuring the markup of your web pages with the specifications supported by Schema.org, either as HTML Microdata or JSON-LD.
What are the new SEO features of Bing Webmaster Tools?
I opened this article by mentioning the advanced SEO features that were introduced with the latest release of Bing Webmaster Tools.
The new SEO tools let you analyze backlinks and research keywords volume. They are developed to give you an edge on your SEO optimization efforts.

Backlinks analysis
Backlinks are the links that point from 3rd party domains towards your website. As you are aware, backlinks are an important signal that influences the position of your pages on search engines; both on Bing and Google.
Bing Webmaster Tools lets you view the backlink profile of your site, and helps you analyze:
The referring domains that point towards your site
The exact pages that link your website
The anchor texts of these links, meaning the words that the hyperlink displays on the link to your pages
The backlinks of your competitors
The option to disavow unwanted links
The possibility of checking the backlinks of your competition, websites you don't own, is a feature that is not present on Google Search Console and that is usually part of dedicated, expensive SEO tools. It's a very important feature to develop your SEO strategy while keeping an eye on your competitors.
There are some limitations though: Bing Webmaster Tools only tells you which domains are linking your competitors; it does not show the exact pages where the links are, nor the anchor texts.
Bing Webmaster Tools also seems to exclude links from social media networks: while Google Search Console does show links from sites like Pinterest, Reddit, or Medium pointing to your domain, these seem to be missing on Bing Webmaster Tools.
Google Search Console also shows the internal link structure, which are the links between your pages. This is also a factor that influences how a search engine indexes your pages; this information is missing on Bing Webmaster Tools.
What is Disavow in SEO?
Disavow means rejecting unwanted links that point to your site. It happens that low-quality websites are pointing to your domain, and both Bing Webmaster Tools and Google Search Console provide you with tools to inform search engines that you don't know these link sources.
The debate on SEO forums about the impact of low-quality links is still open. On one hand, Google never encouraged the practice of disavowing links; its algorithm is powerful enough to recognize spam and to make sure it does not damage the ranking of legit websites.
On the other hand, many SEO specialists have first-hand experience that shows the contrary. And the fact that both Google and Bing make disavow tools available is somehow telling and reinforces the belief that low-quality backlinks do have a negative impact on search ranking.
Keyword Research tool
Keyword Research is another feature that you would usually find on dedicated SEO tools, such as SEMRush, Ahrefs, or the various apps that focus on keyword planning.
Bing Webmaster Tools allows you to view the queries that people search for on Bing, and their corresponding search volumes for a selected country, language, and device type.
The tool can show the number of impressions over a custom period limited to the last 6 months.
The keyword research tool embedded in Bing Webmaster Tools also shows:
Related keywords
Question keywords, which are helpful to understand the way people perform their searches
Here's an important disclaimer: the data that Bing provides as keyword search volume is, of course, based on Bing searches. Since the vast majority of Bing users are in the US, the keyword research tool will provide plenty of data about US searches, while it will often return "No Data Available" for keywords in other languages, or English keywords on a location other than the US.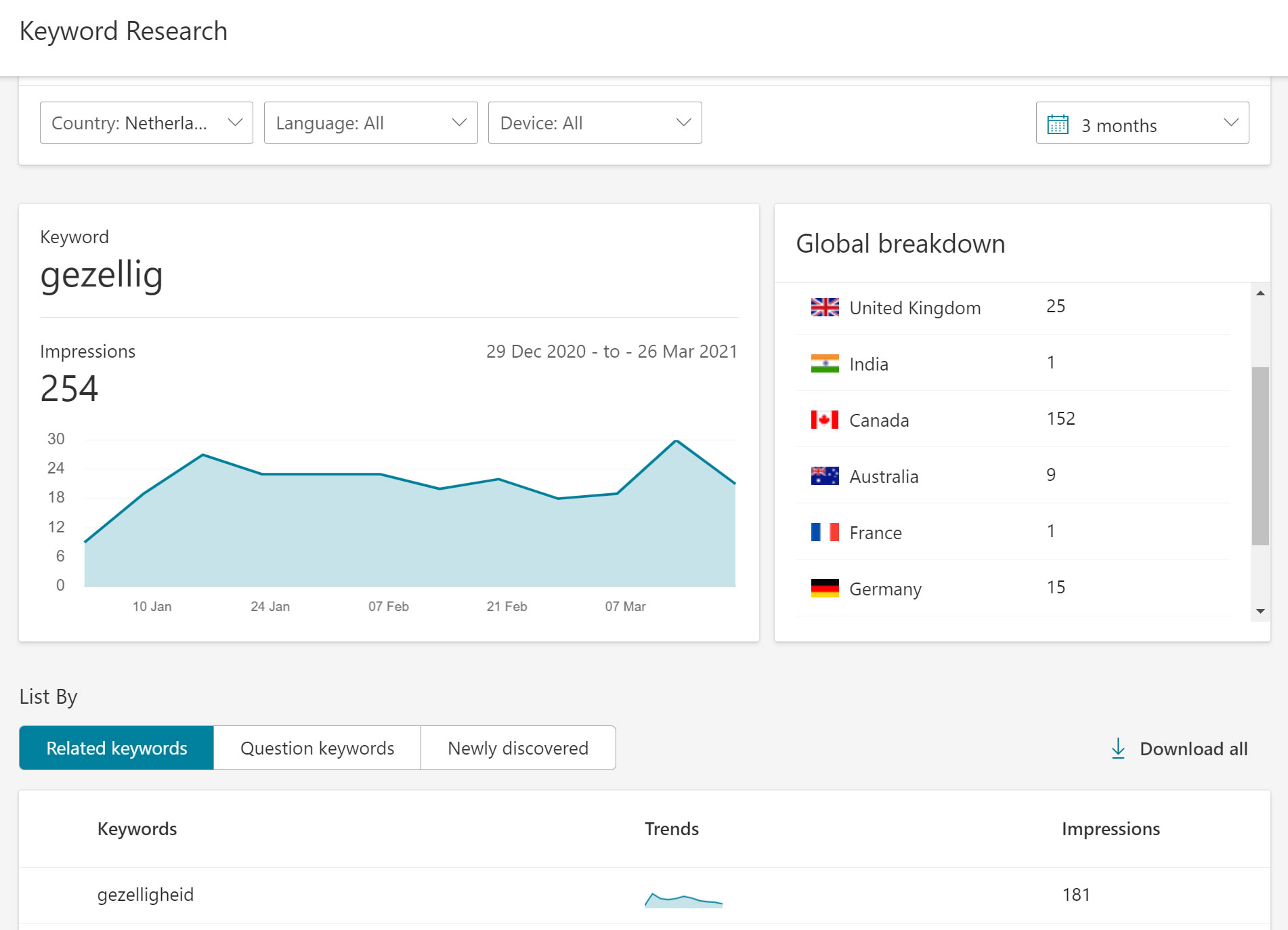 The results seem limited, and this is noticeable even when you set the correct language for the keyword.
As for the other sections of Bing Webmaster Tools, the UI of the new keyword research tool is very clear and it does show potential for this functionality to grow. For each keyword, the current top 10 ranking search results are also shown on the page.
SEO Reports
SEO reports list an aggregated count of the errors and warnings that the Bing bot encountered while scanning your website. These errors are grouped for High, Moderate, or Low severity.
In my experience, the outcomes are not always in line with a SEO scan performed by Google Search Console. For instance, Bing Webmaster Tools reports as high priority the error:
"There are multiple <h1> tags on the page"
Which I'm not sure it's a practice that Google penalizes. If you search online, you'll find several discussions on forums. The consensus seems to be that an HTML page there can contain multiple <article> tags. Each <article> can very well contain a heading <h1>.
What I can guess is that Bing does not like this and that Bing Webmaster Tools reports it as an error that should be fixed.
As the Bing documentation points out, SEO Reports will run automatically on your website twice a month, providing you with updated reports that you can use to optimize your ranking on search engines.
Site Scan
Site Scan is an audit tool with which you can ask Bing to crawl your site on demand. Like the SEO Report function, it notifies you about errors or warnings like:
Page title, description, or h1 too long;
Alt attributes on images missing;
You can request to start a new site scan. Once the scan is done, the report will be archived so that you can access it later, or compare it with previous site scans.
Interestingly, a few of my pages received this warning: "Html size is too long".
The inline help for this issue explains that:
The evaluated size of HTML is estimated to be over 125 KB and risks not being fully cached. Search engines may not fully acquire the content on a page if the page contains a lot of code.
The pages Bing Webmaster Tools is reporting are long not because of code, but due to the actual content of the page, the text readable by users.
Bing seems to consider this an issue.
Crawl control
Bing Webmaster Tools lets you control when the Bing bot will crawl your website. You can set your time preferences, depending on how the daily flow of traffic to your website is distributed over the 24h. Bing will crawl the least during the most convenient period, to minimize interference in available bandwidth.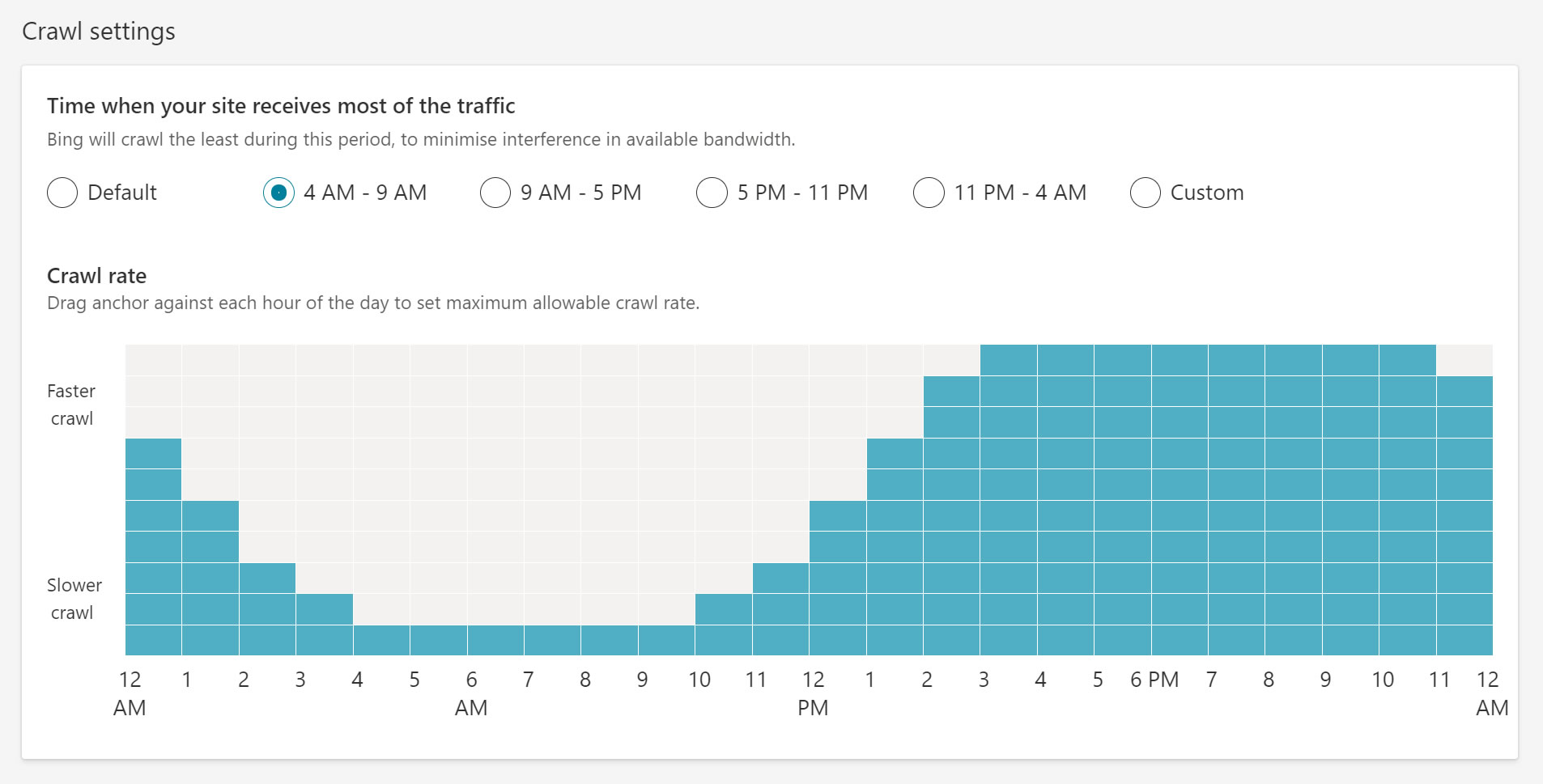 Does Bing Webmaster Tools work with Google Analytics?
"Bing Analytics" does not exist, yet. Bing does not offer tracking and analytics software that is equivalent to Google Analytics.
Yet there is a new, different tracking tool that has a deep connection with Bing Webmaster Tools and that provides data about the user behavior on your website. This tool is Microsoft Clarity, introduced in late 2020.
For event tracking and web analytics, another solution offered by Microsoft that is also integrated with Bing Webmaster Tools is the Microsoft Advertising platform.